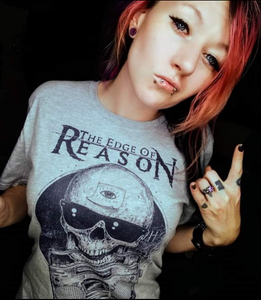 ★★★★★
The most epic of all shirts
Okay so I'm beyond in love with this shirt.
It's insanely comfortable and breathable!
That design though😍😍😍😍
Highly recommend it!
Perfect for anyone!
★★★★★
Love it in red
I love that TEOR offers colors other
than just black! thanks guys!
the shirt looks great in red!
About The Edge Of Reason
We are an independant German rock band delivering powerful, high-energy and above all deep infectious emotions. Mixing emotional Post-Hardcore, alternative rock and synth elements with a fresh unique approach.

If you like Falling in Reverse and Bring Me The Horizon mixed with a pinch of Twenty One Pilots and a breeze of Scandroid, you'll love our songs.

We love our very close relationship with our fans and experiencing the journey through life's challenges together with them. Based on our own struggles, we are ardent mental health advocates.

Let's fight the good fight together to make this world a better place!
#MusicSaves
What Fans Are Saying
They're everything every emo hardcore band lover needs! All this other new stuff is trash but TEOR will make it far!"
Robert Kranze
These guys are phenomenal! I see huge things coming in their future!! Give them a listen and I promise you won't be disappointed!!